Administrator
Staff member
VARD SECURES CONTRACT FOR ONE DIVING SUPPORT AND CONSTRUCTION VESSEL FOR KREUZ SUBSEA
Singapore, 8 June 2015 – Vard Holdings Limited ("VARD"), one of the major global designers and shipbuilders of offshore and specialized vessels, is pleased to announce that it has secured a contract for the design and construction of one Diving Support and Construction Vessel for Singapore-based Kreuz Subsea group.
The vessel will be of VARD 3 17 design, with a total length of 91.2 meters and a beam of 21.5 meters, and has been developed especially for diving support and subsea construction duties. Designed by Vard Design in Ålesund, Norway, and with hull construction to be carried out at Vard Tulcea in Romania, delivery is scheduled from Vard Søviknes in Norway in 2Q 2017.
The DP2 class vessel will have a 100-ton active heave compensated offshore crane, and is prepared for Remote Operating Vehicles (ROVs). The diving system features a single bell system for a maximum of 12 divers, and can operate in water depths of up to 300 meters with a surface diving spread suitable for air diving in up to 50 meters depth. The diving accommodation is divided into three saturation living chambers. The vessel will be built according to latest SPS regulations, and can accommodate up to 105 persons.
Established in 2008 as a provider of integrated offshore subsea services to the oil and gas industry, Kreuz Subsea has multipurpose support vessels, remotely operated vehicles and saturation & surface-supplied diving systems under ownership, and is well placed to offer the industry innovative, safe and productive subsea solutions, with a competitive edge. Recognized by its clients as an experienced, ethical and reputable integrated subsea services provider to the offshore oil and gas industry, Kreuz Subsea is progressing towards becoming an established deep-water SURF installation service provider.
VARD CEO and Executive Director Roy Reite said, "I would like to welcome the Kreuz Subsea group as a new client for VARD, and look forward to working with them on this exciting project. Being chosen to develop and build this innovative vessel for use in the Asia Pacific region is proof that our technology and designs are applicable to diverse offshore environments globally, and we are able to expand our reach into new markets."
Overall length: 91.2 m | Breadth: 21.5 m | Diving Support and Construction Vessel
VARD 3 17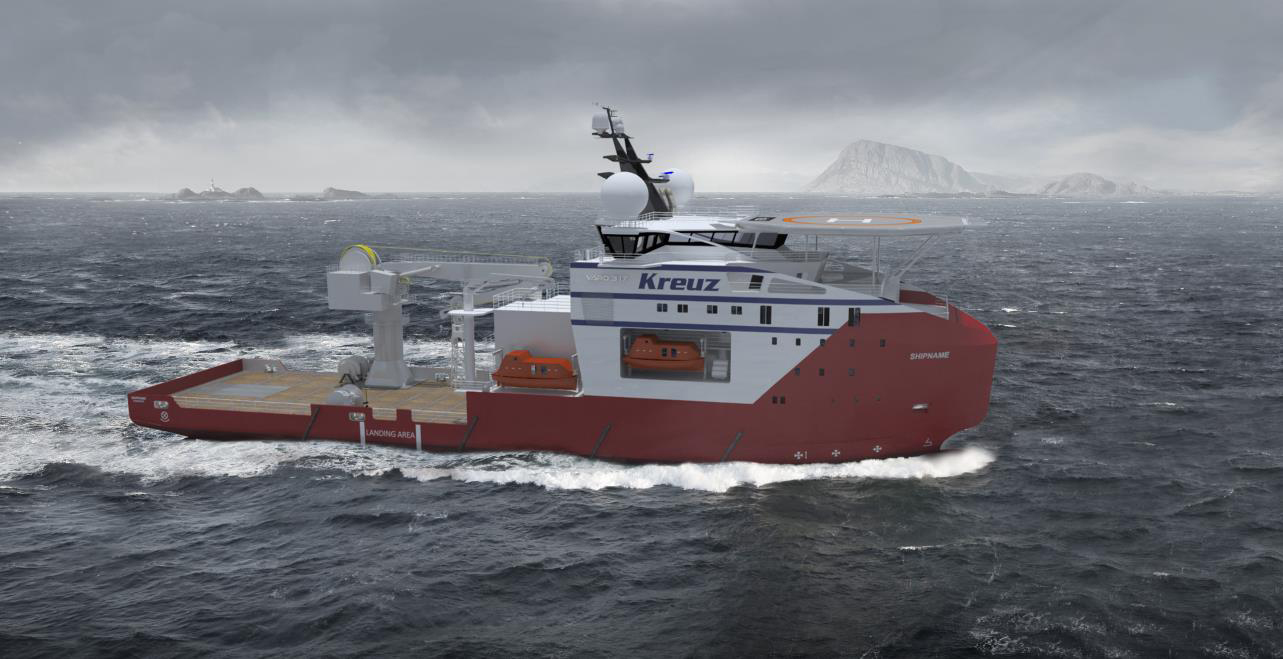 Illustrasjon: Vard